Our solution: maintain the artisanship and uniqueness of luxury niche perfumes
M.L.G. covers the assembly and packaging of all 32 fragrances, combining craftsmanship with the use of top-notch perfume bottle filling machines.
Luxury niche perfumes assembled with such extraordinary care are the conclusive part of the art of perfume making and faithfully reflect the image of luxury and uniqueness that BOIS fragrances represent worldwide.
The relaunch of the 'Profumo di Firenze' brand
M.L.G. is also proudly involved with the relaunch of the 'Profumo di Firenze' brand.
A total of six fragrances – Eau de Parfums – which invoke the strong connection of Florence to the art of perfumery.
A carefully chosen collection inspired by unique essences – not monochromatic fragrances but rich and captivating scents, expressing different notes: Odori, Fico, Zafferano, Cuoio, Iris and Spigo, all in elegant and classic bottles, which reveal the secrets and flavors of the city of Florence. These precious scents are assembled and packaged with expertise and attentive care for detail by M.L.G.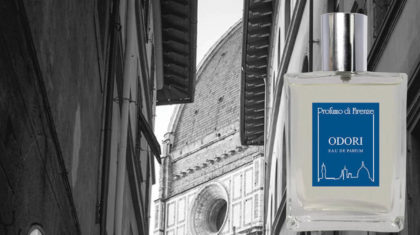 M.L.G. manufactures private label perfumes for numerous international high-end cosmetics and fragrance brands.
We can offer a turn-key full service or become a contract manufacturer to your unique perfume project.
Contact us for a free consultation.